PACENation Regional Ohio Conference – Sept 26, 2018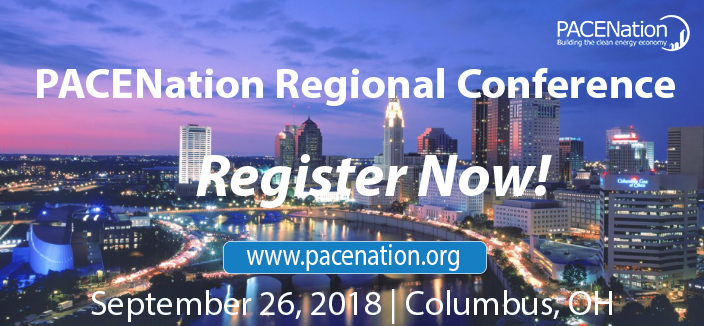 Join PACENation and the Council of Development Finance Agencies (CDFA) on September 25 and 26 in Columbus, OH.
Day 1: CDFA Roundtable, September 25
The CDFA Ohio Financing Roundtable will feature a special one-day conference that will cover bonds, TIF, tax credits, energy, redevelopment and small business finance. This event will feature a number of economic development finance experts from around the state discussing development finance tools, authorities, resources and approaches, and how these can affect the Ohio economy going forward. Register Today!
Day 2: PACENation Regional Ohio Conference, September 26
This conference is perfect for local governments and development finance agencies, building owners, contractors, PACE related service & finance providers, and other PACE stakeholders to get together and explore Ohio and surrounding regions. This provides an opportunity for learning, networking, and advancing PACE. Click here to learn more and register!
ROSEVILLE – Nearly a decade of grant-funded projects are transforming the village of Roseville.
Few will have the impact of a the new supermarket building. "It will be the centerpiece of a new downtown," said Heidi Milner, the village's fiscal officer.
It is nearing completion on part of the former Ungemach Pottery site on Potters Lane. Construction was funded by $750,000 in grants, the bulk of which was a USDA Rural Development Grant, and local investment. The new building features a grocery store, restaurant space and a walk-up window that could be used for ice cream orders. Garage doors on each side of the dining area will give it a pleasant summer atmosphere, as will a patio behind the building that opens facing the levy.
read more