PACENation Regional Ohio Conference – Sept 26, 2018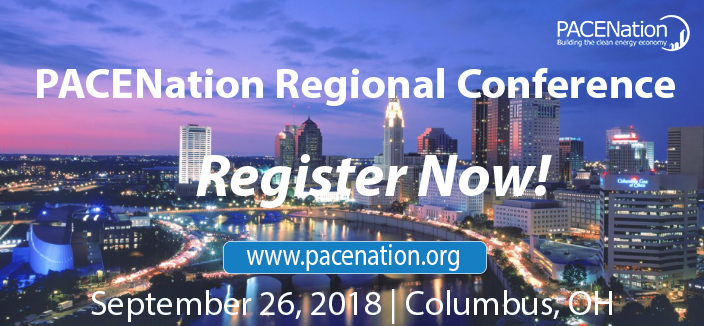 Join PACENation and the Council of Development Finance Agencies (CDFA) on September 25 and 26 in Columbus, OH.
Day 1: CDFA Roundtable, September 25
The CDFA Ohio Financing Roundtable will feature a special one-day conference that will cover bonds, TIF, tax credits, energy, redevelopment and small business finance. This event will feature a number of economic development finance experts from around the state discussing development finance tools, authorities, resources and approaches, and how these can affect the Ohio economy going forward. Register Today!
Day 2: PACENation Regional Ohio Conference, September 26
This conference is perfect for local governments and development finance agencies, building owners, contractors, PACE related service & finance providers, and other PACE stakeholders to get together and explore Ohio and surrounding regions. This provides an opportunity for learning, networking, and advancing PACE. Click here to learn more and register!
About three months ago, we launched our Recovery Within Reach campaign, a first-of-its-kind effort to educate Ohioans about the financial effects of opioid addiction — and to connect them with treatment options close to their homes.
Our goal is to create a new way of talking about addiction, one in which people consider the facts and practical realities of how substance use disorder affects their lives. Not long ago, Gov. Mike DeWine challenged all of us in state government to think of ways we could help Ohioans navigate the opioid crisis that has affected our state for so long. For us, that meant considering the financial effects of addiction — and providing tools and trainings to help Ohioans and financial advisers talk about addiction and access care.
read more