OEDI Training Accredited for Planning Profession Accreditation
The Ohio Economic Development Institute is pleased to announced that the American Institute of Certified Planners (AICP) has approved OEDI to be an approved Certification Management (CM) provider.
Beginning in 2020, programming offered by OEDI that has a planning aspect will be approved for CM credit. Look for the AICP / CM Logo that will identify courses offering credit.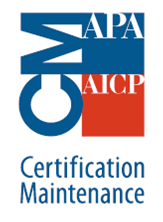 Rural communities are prime targets for companies considering a corporate site location project. Rural areas in the U.S. cover 97 % of the nation's land area but contain 19.3 % of the population who are more likely to own a single family home, are older and less likely to hold a bachelor's degree or be in poverty than their urban counters.
read more