OEDI Training Accredited for Planning Profession Accreditation
The Ohio Economic Development Institute is pleased to announced that the American Institute of Certified Planners (AICP) has approved OEDI to be an approved Certification Management (CM) provider.
Beginning in 2020, programming offered by OEDI that has a planning aspect will be approved for CM credit. Look for the AICP / CM Logo that will identify courses offering credit.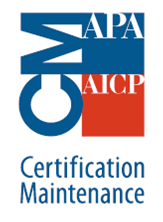 The City of Delaware welcomes Cody Hatten as its new Economic Development Coordinator.
Hatten previously served in various capacities with the Lawrence Economic Development Corporation in Lawrence County, Ohio. His positions included Economic Development Specialist and Director of the Convention & Visitors Bureau.
read more