OEDI Training Accredited for Planning Profession Accreditation
The Ohio Economic Development Institute is pleased to announced that the American Institute of Certified Planners (AICP) has approved OEDI to be an approved Certification Management (CM) provider.
Beginning in 2020, programming offered by OEDI that has a planning aspect will be approved for CM credit. Look for the AICP / CM Logo that will identify courses offering credit.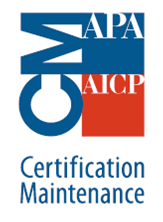 On November 13 and 14, JobsOhio was honored to partner with the Air Force Life Cycle Management Center (AFLCMC) and the Dayton Development Coalition to hold AFLCMC Pitch Days at Carillon Historical Park in the Dayton region. The two-day event connected industry, venture capital and the U.S. Air Force together to facilitate support for cutting-edge technologies. These were the first Pitch Days held in Dayton, but we anticipate they will not be the last.
read more