OEDI Training Accredited for Planning Profession Accreditation
The Ohio Economic Development Institute is pleased to announced that the American Institute of Certified Planners (AICP) has approved OEDI to be an approved Certification Management (CM) provider.
Beginning in 2020, programming offered by OEDI that has a planning aspect will be approved for CM credit. Look for the AICP / CM Logo that will identify courses offering credit.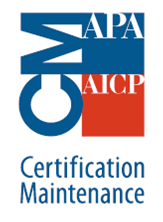 Every year we celebrate the organizations and individuals that have partnered with us to help grow our local economy. Due to COVID-19, we were unable to host our Annual Meeting & Business Development Awards Ceremony. This year we celebrated the Award recipients at their place of business. 
read more