UCI and Web Ventures Co-Host Virtual Panel on Apprenticeships and the Future of Work
Brooke Duncan
Uptown Consortium, Inc.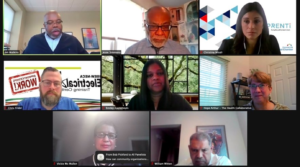 On Tuesday, March 16th, Uptown Consortium, Inc. (UCI), in partnership with WEB Ventures, LLC hosted a virtual panel presentation and Q&A discussion about apprenticeship programs in greater Cincinnati. More than 30 people participated and listened to eight experts share their insights on apprenticeships and living wage jobs of the future.
The purpose was to provide direct insight into the local apprenticeship avenues and program opportunities by inviting leaders to share his or her relevant experience. The panelists also covered what each apprenticeship program provides, who is running them and important ways to contact the apprenticeship program provider.
For those interested in apprenticeships but who were unable to join the session, here are some select highlights and key resources from the panelists.
William (Bill) Witten, Managing Partner, WEB Ventures, LLC
After welcoming the participants, co-host Bill Witten described the Committee for Pathways to Careers and Construction Innovation, which seeks to help ensure that the Uptown Innovation Corridor attracts future-focused jobs with strong wages. "Most of the careers that will be in innovation corridors will start around $55,000 a year, Witten said, adding that the local goal is to see that as many of them as possible are situated here in our region. To help achieve this objective, the committee, of which Witten is a part, works with 10 to 15 job readiness providers in the city and with both union and non-union shops. In addition, the committee partners with educators such as Cincinnati Public Schools, Cincinnati State and the University of Cincinnati to identify, train and place minority and women workers on Uptown construction sites, with a special emphasis on residents of the surrounding communities.
James Watkins, President, TriVersity Construction
Before introducing the panelists, moderator James Watkins noted that apprenticeships have long been associated with his industry, but that they have grown in popularity across a wide swath of professions in recent years, including hospitality, telecommunications and more. In fact, the U.S. Department of Labor reported more than 3,000 new apprenticeship programs in 2019.
Chris Fridel, Assistant Director, International Brotherhood of Electric Workers (IBEW) Electrical Apprenticeship, and Director, Greater Cincinnati Apprenticeship Council
Chris Fridel has spent 31 years as a union construction electrician and has led over 300 apprentices through IBEW's five-year apprenticeship program, one of the most extensive apprenticeship programs in the area. It includes 8,000 hours of on-the-job training and 900-plus hours of classroom training, all while earning good wages and benefits from the get-go. Fidel shared how this sort of apprenticeship approach is often referred to as the "learn and earn" model.
Emiley Crawford-Davis, J.D., Director, Youth Apprenticeship Readiness Initiative (YARI), Easterseals
In her role with Easterseals, Emily Crawford-Davis helps create "breakthrough moments" on the path to employment for veterans, individuals with disabilities and others facing economic, social or educational disadvantages. She explained how a grant from the U.S. Department of Labor¾one of 14 of its type awarded across the country¾has enabled YARI to establish a registered apprenticeship programs aimed at the construction industry. These highly regarded programs result in apprentices receiving nationally recognized industry credentials. This is just one of a whole host of Easterseals programs focused on apprenticeship and job opportunities.
Hope Arthur, Director of Workforce Innovation, Health Collaborative
Hope Arthur began her remarks by acknowledging that healthcare isn't an industry people think of when the topic is apprenticeships. But that is changing. For several years now, Arthur and her team have been building a regional program aimed at improving the diversity and preparedness of people entering into health careers and to provide support to those as they "learn and earn" along the way. This program was shaped by input from our region's six major hospitals regarding what makes someone really attractive as an employee—be that for an entry-level position or one post-secondary. An apprenticeship for sterile processing technicians has already been offered and one for medical assistants is slated to begin in May.
Vickie McMullen, Client Relations Manager, Techsolve, and Project Manager, US Department of Labor Scaling Apprenticeship Grant
The subject then turned to manufacturing apprenticeships as Vicki McMullen began by explaining the U.S. Department of Labor Scaling Apprenticeship Grants, one of which was awarded to Ohio through a collaborative effort of industry partnerships around the state. She said Ohio is committed to hiring 5,000 apprentices and our region has committed to hiring 600 in such skills as machining, robotics, 3D printing and more.  "The goals for our region are first to build a talent pipeline for local manufacturers, increase candidates by reducing the challenge of finding qualified individuals, and fuel economic growth through the development of apprenticeship programs," said McMullen.
Christina Misali, Senior Leader Talent Connections, Cincinnati USA Regional Chamber
Christina Misali manages Apprenti Cincinnati, a registered apprenticeship program for tech talent, as well as pre-apprenticeship offerings and various technical skilling initiatives. Misali said that, based on 2019 data, there were almost thousands of open tech positions in the region. "One thing we have really focused on in Apprenti Cincinnati is diversity and inclusion and how we can remove bias throughout the interviewing process," said Misali. "We're definitely focused on women, minorities and veterans to expand and diversify that talent base within IT."
Jesse Simmons, President, Supply Chain Solutions
The final panelist, Jesse Simmons, shared some insights into Supply Chain OKI. This organization of 30 employers, some of which are among the largest in the region, seeks to help students and adults get good-paying jobs in the supply chain arena. To date, Supply Chain OKI has had over 200 students and 100 adults receive certified logistics training and then got jobs in supply chain. "What's nice about our program is everything that we do is connected with job opportunities and create a career pathway as part of that overall process," said Simmons. "Our focus this year is on helping students and adults understand through webinars what a supply chain career can look like and how to get there."
According to Beth Robinson, CEO of UCI, the panel was a great opportunity for the community to learn important information about apprenticeship programs in greater Cincinnati in one session. "A key element of the Uptown Consortium's Innovation Corridor is creation of opportunities for living wage jobs of the future. The apprentice webinar is consistent with bringing programs to people in Uptown to acquire the job skills for careers of the future. We were pleased to host it with WEB Ventures," she said.
A recording of the entire discussion, including the Q&A portion, can be found here.
As part of the Inflation Reduction Act (IRA) passed in 2022, a new federal program was created that provides great opportunity for Ohio – the Greenhouse Gas Reduction Fund (GGRF). It allocates $27 billion in financial assistance through three programs to reduce harmful air pollutants, mobilize financing and private capital, and deliver benefits for low-income and disadvantaged communities.
read more