Major Projects Intern – Greater Cleveland Partnership
INTERNSHIP TITLE:  Major Projects Intern
TEAM:  Major Projects
REPORTS TO:  Director, Civic Engagement and Projects
FLSA CLASSIFICATION:  Non-Exempt
DATES OF INTERNSHIP:  June 6th – August 12th, 2021 (10-weeks)
POSITION SUMMARY:
The GCP Major Projects Intern will be primarily responsible for supporting the Major Projects team's work in the development of the Downtown Cleveland Digital Model and assisting in the coordination of the Downtown Visioning effort. This work will include research, documentation, and organization of critical information related to major real estate development projects, infrastructure investment, and planning efforts taking place within the defined Central Business District. The Intern will be afforded significant opportunity to enage with major private developers, public-sector partners including the City of Cleveland, neighborhood and district organizations, community stakeholders, and the general public. Additionally, the Intern will be integrated into and provide support to other Major Projects focus areas, including the Downtown Lakefront Connector project, the Vision for the Valley planning effort, and other initiatives related to GCP's "Appealing Communities" focus area.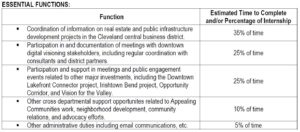 SKILLS AND QUALIFICATIONS:
Must be a current undergraduate or graduate student.
Majoring or strong interest in urban planning or public administration is preferred.
Excellent oral and written communication ability and interpersonal skills.
Ability to work within a team setting and independently.
Proficiency in Word, Excel, PowerPoint, and Outlook. Understanding of GIS a plus.
Affinitiy for and interest in development activities in Downtown Cleveland a plus.
Must be able to work occasional off-business hours (evenings, weekends)
Ohio's Joint Economic Development District (JEDD) program is the major state program that enables collaboration among municipalities and townships to encourage investment and job creation. Over the past few years, the JEDD program has undergone a number of significant changes that impact on its practical use.
read more