Ohio's Largest Small Business to Government Contracting Event
Dan Bowerman
Public Information Officer
Ohio Development Services Agency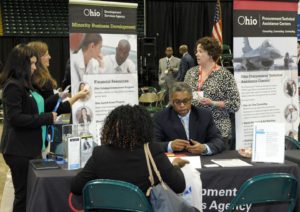 Small businesses seeking contracting opportunities at the local, state and federal level should register for the 2018 Ohio Business Matchmaker for an opportunity to "match" goods and services to participating buyers with combined budgets representing billions of dollars.
The largest small business to government contracting event in the state will kick off with a networking reception from 4:30-6:30 p.m. Tuesday, May 1, at Wright State University's Nutter Center, 3640 Colonel Glenn Highway, Dayton, Ohio 45324. The Ohio Business Matchmaker's main "matchmaking" event will take place on from 8 a.m. to 4 p.m. Wednesday, May 2.
"The U.S government is the world's single largest purchaser of goods and services and Ohio Business Matchmaker has a direct impact on connecting small businesses to large buyers including federal agencies," said acting U.S. Small Business Administration Columbus District Director Scot Hardin. "In FY 17, the federal government awarded more than 57,000 contracts worth nearly $2.4 billion to Ohio small businesses."
Since 2006, the SBA and the Ohio Development Services Agency have partnered on this event to connect potential qualified suppliers to city, county, state, federal agencies and other large contractors seeking MBE/EDGE, minority-owned, women-owned, veteran-owned, 8(a) and HUBZone certified businesses.
"This event gives Ohio small businesses access to billions of dollars' worth of government contracts," said David Goodman, director of the Ohio Development Services Agency. "One-on-one conversations with government agencies and prime contractors can help your business grow to new heights."
Government agencies and prime contractors can register for free. Small businesses can register for $125 before the event. On-site registration costs $175.
In addition to one-on-one scheduled and unscheduled matchmaking, small businesses are urged to prepare for the Ohio Business Matchmaker with a number of webinars on how to do business with government agencies.
To register for the Ohio Business Matchmaker and webinars, visit ohiobusinessmatchmaker.com.
(Wilmington, Ohio) The Clinton County Port Authority is pleased to congratulate David Riggs, Director of the SBDC at Miami Regionals, for being named Ohio's SBDC State Star in 2021.
America's SBDC, the national association that represents the nationwide network of Small Business Development Centers (SBDCs), annually recognizes one outstanding SBDC employee from each of its 62 members. This outstanding employee exhibits exemplary performance, makes a significant contribution to their state or regional SBDC program, and shows a strong commitment to small business. Using a peer-based selection process, the Ohio SBDC network selected David Riggs for Ohio's SBDC State Star.
read more