Success through Collaboration: A Regional Conference for Southeast Ohio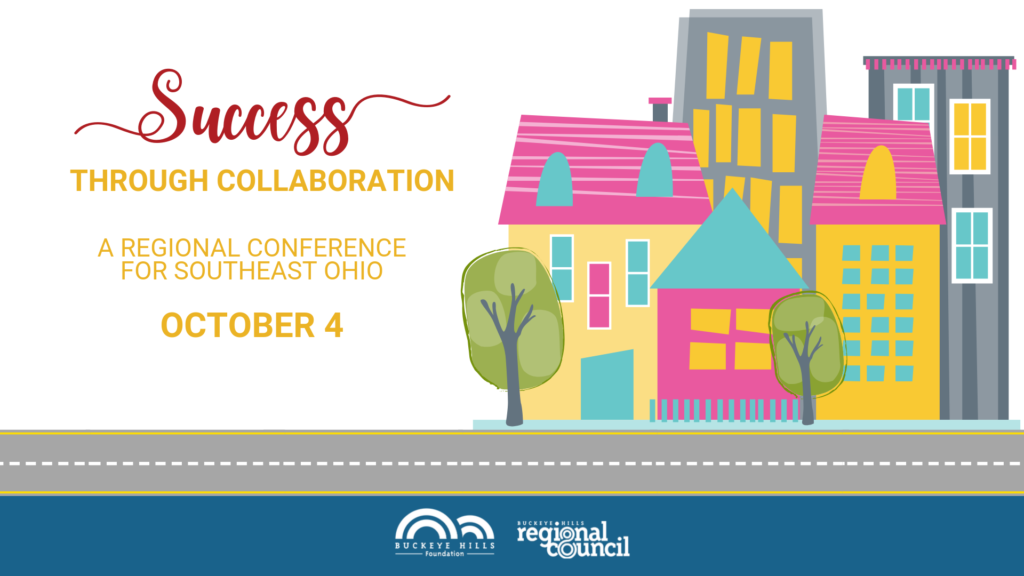 Success through Collaboration: A Regional Conference for Southeast Ohio, is being held on Friday, October 4th from 8:30 a.m. to 3:30 p.m. at Buckeye Hills Regional Council in Marietta. This event will bring together community leaders, elected officials, practitioners and more to explore how the power of collaboration has – and will continue to – garner success for southeast Ohio.
From honing hard skills like facilitation and strategic planning to refining best practices in relationship building and community development, this regional conference will equip participants with both the skills and knowledge to work together for the betterment of our region.
Session topics include: Setting the Stage: Facilitating Collaborative Working Relationships; Workforce Re-Entry & The Role of Employers; Collaboration to Positively Impact Population Health; Building Communities with Strategic Planning; Demystifying "How" Communities & Small Business Collaborate; Solsmart: Renewable Energy for Sustainable Impact; and Placemaking & Storytelling.
Jeff Finkle, President & CEO of the International Economic Development Council will give the opening keynote on the role of collaboration in economic development. As President and CEO of the International Economic Development Council (IEDC), Jeff Finkle is a recognized leader and authority on economic development. With the formation of IEDC in 2001 following the merger of the Council for Urban Economic Development (CUED) – where he was president for 15 years – and the American Economic Development Council (AEDC), Jeff set the course for a more effective and influential organization. Today IEDC is the world's largest economic development membership organization and is a $5 million annual operation that is renowned for its leadership in professionalizing and diversifying the field of economic development.
Registration for the conference is $35, which includes all conference materials, sessions, and lunch. Registration is available online at https://www.buckeyehills.org/calendar
Buckeye Hills Regional Council is a council of governments dedicated to improving the lives of residents in southeast Ohio. By working collaboratively with elected officials across Athens, Hocking, Meigs, Monroe, Morgan, Noble, Perry, and Washington counties, we grow strong communities through our five divisions: Aging & Disability, Community Development, Mapping & Data, Population Health, and Transportation Planning.
ROSEVILLE – Nearly a decade of grant-funded projects are transforming the village of Roseville.
Few will have the impact of a the new supermarket building. "It will be the centerpiece of a new downtown," said Heidi Milner, the village's fiscal officer.
It is nearing completion on part of the former Ungemach Pottery site on Potters Lane. Construction was funded by $750,000 in grants, the bulk of which was a USDA Rural Development Grant, and local investment. The new building features a grocery store, restaurant space and a walk-up window that could be used for ice cream orders. Garage doors on each side of the dining area will give it a pleasant summer atmosphere, as will a patio behind the building that opens facing the levy.
read more